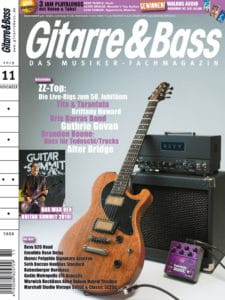 Gitarre & Bass 11/2019
INTERVIEWS: ZZ Top, Tito & Tarantula, Brittany Howard, Kris Barras Band, Alter Bridge +++ Das war der GUITAR SUMMIT 2019! +++ TEST: Revv D20 Head, Eventide Rose Delay, Ibanez Polyphia Signature-Gitarren, Seth Baccus Nautilus Standard, Rabenberger Hornbass, Warwick RockBass Alien Deluxe Hybrid Thinline, Marshall Studio Vintage SV20C & Classic SC20C
Modeler/Profiler-Monitor im Combo-Format
Friedman: ASC-12 Powered Monitor
Die Modeler- und Profiler-Amps sind auf dem Vormarsch und die Musikindustrie zieht mit entsprechenden Angeboten nach. So bringt die Hollywood-Firma Friedman Amplification den ASX-12 2-Weg 500-Watt Modeler/Profiler Monitor auf den Markt. Dabei handelt es sich um eine überarbeitete Version des bereits im Vorjahr erschienen ASM-12, nur eben in Form eines vertrauten Combo-Cabinets. Zielpublikum sind die Besitzer von Guitar-Amp Modeler/Profilern wie dem Fractal Audio Axe-Fx, dem Kemper Profiler, der Line 6 Helix Series oder einem vergleichbaren Hersteller.
Der ASC-12 verfügt über einen Celestion 12" Lautsprecher mit einem 2.5" Koaxiallautsprecher sowie einem premium Celestion Kompressionshochtöner. Das Herzstück des Monitors bildet der robuste 500w Bi-Amp Class-G Amplifier.
Die Fakten:
12" 2-Way Active Cabinet for use with modelers/profilers
Bi-Amp power amplifier module with high efficiency Class G low frequency amplification
High current output stage and custom signal processing
Made in USA using premium worldwide components
LF Transducer – Celestion – 12" speaker with 2.5" edge wound voice coil
HF Transducer – Celestion PETP film compression driver with 1.75" voice coil
Maximum total burst power – 500W
Low Cut Filer (switchable) – 3rd order Butterworth @ 100Hz
Controls – Level knob, Low-cut filter switch, Ground lift switch, Power switch, AC fuse, 115/230V switch
Indicators/Power – Power, Protect, Limit, Signal
Amplifier Protection – Short circuit, Clip-limiter, Overheat mute, SOA output stage, Driver DC protection, Subsonic filter, Turn-n mute and soft ramp, Turn-on inrush current limiting
Connectors – Balanced female XLR input / Balanced male XLR link output
Baltic birch plywood construction
Dimensions – 18.5 "x 19″ x 30"
Weight – 52 lbs.
UVP: € 900
Weitere Informationen gibt es HIER.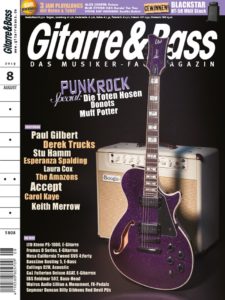 Gitarre & Bass 8/2019
Special: PUNKROCK – Die Toten Hosen, Donots, Muff Potter +++ STORY: Paul Gilbert, Derek Trucks, Stu Hamm, Esperanza Spalding, Laura Cox, The Amazons, Accept, Carol Kaye, Keith Merrow +++ TEST: LTD Xtone PS-1000, Framus D Series, Mesa California Tweed 6V6 4:Forty, BassLine Bustiny 5, Collings D2H, G&L Fullerton Deluxe ASAT, EBS Reidmar 502, Walrus Audio Lillian & Monument, Seymour Duncan Billy Gibbons Red Devil PUs
Das könnte dich auch interessieren