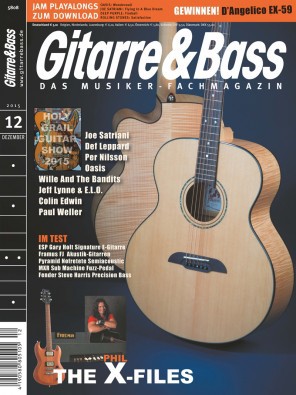 Gitarre & Bass Digital 12/2015
The x-files +++ Joe Satriani, Def Leppard +++ Per Nilsson +++ Holy Grail Guitar Show 2015 +++
special
Holy Grail Guitar Show 2015
story
Joe Satriani 2015: Live-Gear & Satch-Hits
Meilenstein 1995: Oasis & Morning Glory
Gear Talk: Per Nilsson / Scar Symmetry
Paul Weller: Die Legende lebt
G.A.S.: Greco-Byrdland-Kopie aus den 70ern
Newcomer: Wille & The Bandits
Jeff Lynne: Der Macher von E.L.O.
Def Leppard: Phil Collen & Band im Interview
Colin Edwin: Bass für und neben Porcupine Tree
Bon-Jovi-Gitarrist Phil X: Conquer The Lick!
test
gitarre & bass
Framus Phil XG AS Signature, E-Gitarre
Pyramid Nofrete, Semiacoustic-E-Gitarre
Masterpiece! ESP Gary Holt Signature, E-Gitarre
(Twangtone by) Vivian Guitars Electra King, E-Gitarre
Riversong TRAD CDN P N, A-Gitarre
Framus FJ-14SMV VNT & FJ-14SMV VSNT CE, A-Gitarre
Jackson JS3 Concert Bass, E-Bass
Löwenherz Exciter 4, E-Bass
Fender Steve Harris, E-Bass
LTD TE-406 SWS, E-Gitarre
Ibanez BTB685SC, E-Bass
amp & box 
Friedman Phil X, Tube-Head
Suhr Bella 44, Röhren-Combo
Gallien-Krueger CX115, CX210 & CX410, Bass-Boxen
Maruszczyk Barabass LF, Bass-Combo
Peavey Classic 20 MH, Mini-Tube-Head
Taurus Stomp-Head 2, Pedal-Amp
effekte & zubehör
 MXR Custom Shop CSP210 Sub Machine, FX-Pedal
Mooer Audio GEM Box LE, GEM Box, GE100, FX-Multis
El Ray Effects: Fuzz de la Muerte, Mystic Fuzz, FX-Pedals
Mackie Freeplay, Mini-Kompakt-PA
Tech21 RK5 Fly Rig & OMG Signature Overdrive, FX-Pedale
TC Electronic Sentry Noise Gate
Ortega Octopus, Tuner & Power Supply
Ibanez APC Instrumenten-Kabel
Mojotone PAF Clone Humbucker
DiMarzio PAF Master Humbucker
Boss SY-300 Guitar Synthesizer
workshop
Amp Station: Wir gucken in die Röhre
Effektiv! Distortion: ProCo The Rat
Classic Tone: Schaffer Replica
Hot Rod Mod: Tap-Tempo-Delays, Teil II
Slide Guitar! Der gute Ton
The Art Of Bass: Bootsy Collins, Teil 2
Jil's Jam! Blues-Rhythmen & Begleitfiguren
Lick Of The Month! The Avener: Fade Out Lines
… and Chords! The Avener: Fade Out Lines
Instant Shredding: Wunderliche Skalen & Klänge
JAM! Oasis: Wonderwall
JAM! Joe Satriani: Flying In A Blue Dream
JAM! Deep Purple:Fireball
JAM! Rolling Stones: Satisfaction
Das könnte dich auch interessieren