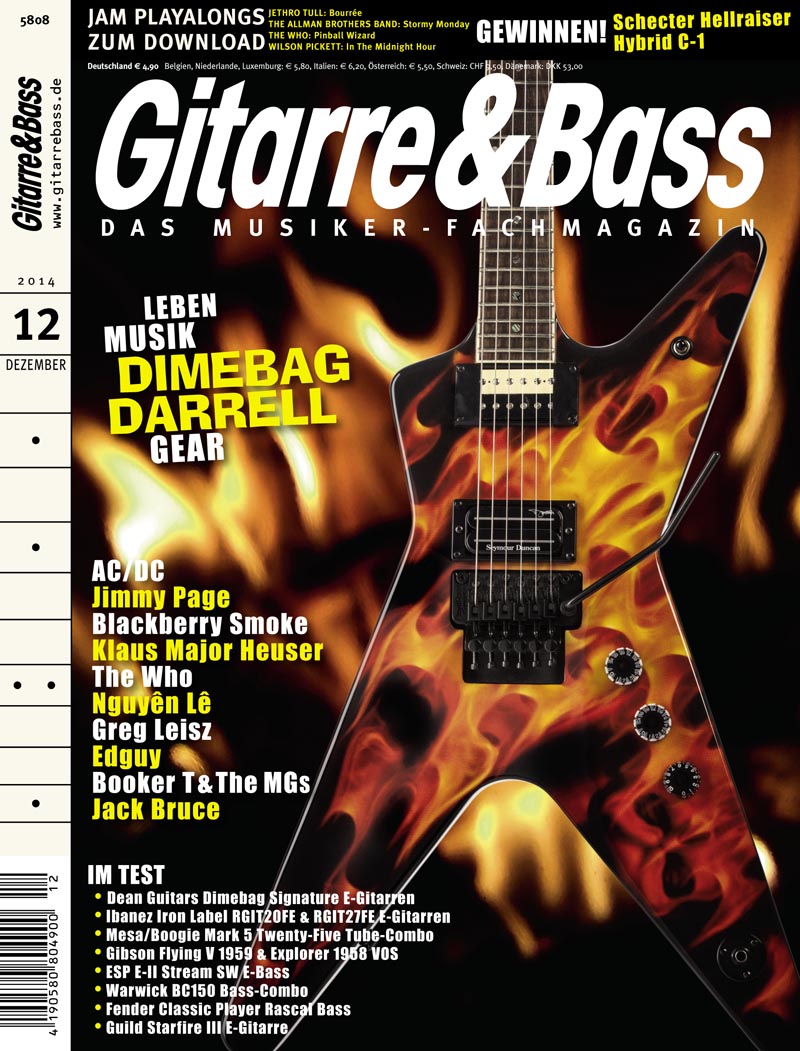 Gitarre & Bass Digital 12/2014
Dimebag Darrell, Gear, AC/DC, Jimmy Page, Blackberry Smoke, Klaus Major Heuser, The Who, Nguyén Lé, Greg Leisz, Edguy. Jede Menge Testberichte und Workshops.
special
AC/DC! Angus Young im Interview – exklusiv auf www.gitarrebass.de
Dimebag Darrell & Pantera: Die Härtesten aller Zeiten
Ecken und Kanten: Von der Gibson Explorer zur Heavy Axt
Siggi Braun: 20 Years Of Fine Young Guitars
story
Blackberry Smoke: Southern Rock 2014
Meilenstein 1962! Booker T & The MG´s
Klaus Major Heuser Band: 57
Philip Sayce: Green Backs, TS808 & Co.
Greg Leisz: Der ewige Sideman
Rock or Bust: Das neue AC/DC-Album
Pre-AC/DC: Marcus Hook Roll Band
Jimmy Page in: The 70s
Edguy: Tobias Exxel/Metal-Bass
Nguyén Lé: The Dark Side Of The Moon
Guy Pratt: Stand-Up Bassman
test
Gibson Flying V 1959 VOS Custom Order & Explorer 1958 VOS
Custom Order, E-Gitarren
Ibanez Iron Label RGIT20FE & RGIT27FE, E-Gitarren
FGN  J-Standard Flattop, E-Gitarre
Electra Guitars Omega Prime Ceruse, E-Gitarre
Guild Starfire III, E-Gitarre
Dean Guitars Dimebag Dime O Flame ML, Dimebag Black Bolt
ML, Razorback Cemetery Gates, E-Gitarren im Vergleich!
LTD by ESP Iron Cross SW, E-Gitarre
Ibanez AVD1 & AVN1, A-Gitarren
Gretsch Rancher G-5034T-FT, E/A-Gitarre
ESP E-II Stream SW, E-Bass
Fender Classic Player Rascal Bass
BassLine Reaper Custom Shape, E-Bass
amp & box
Mesa/Boogie Mark 5 Twenty-Five, Tube Head
Randall  667, Röhren-Sechskanal-Head
Rocktron Widowmaker + Velocity 100 Ltd, Preamp + Endstufe
Warwick BC150, Bass-Combo
tc electronic BH800, Bass Top
Dörrer Amplification Basso, Bass Amp
effekt und zubehör
Finhole Edge Mic Blues Harp/Converter
Twangtone BSM BuzzBender Plus, Bass-FX
T-Rex Soulmate, Multi-FX
Electro-Harmonix Deluxe Big Muff x, FX-Pedal
workshop
Classic Basslines Special: Jack Bruce 1943-2014
JAM! Jethro Tull: Bourree
JAM! The Allman Brothers Band: Stormy Monday
JAM! The Who Pinball: Wizard
JAM! Wilson Pickett: In The Midnight Hour
Sax & Strings! Lily Was Here
Lick Of The Month! The Who: I Can't Explaine
… and Chords! The Who: I Can't Explaine
Jil's Jam! Chromatische Grundlagen
Guitar Shop: No Budget Pimping, Teil 6
Tom's D.I.Y. Workshop: Axt Recycling
Amp Station! Fender Deluxe Reverb "Del Maximo"
Effektiv! Die Overdrive-Theorie
Guitar Tuning: Quo vadis, Vintage-Markt?
Das könnte dich auch interessieren