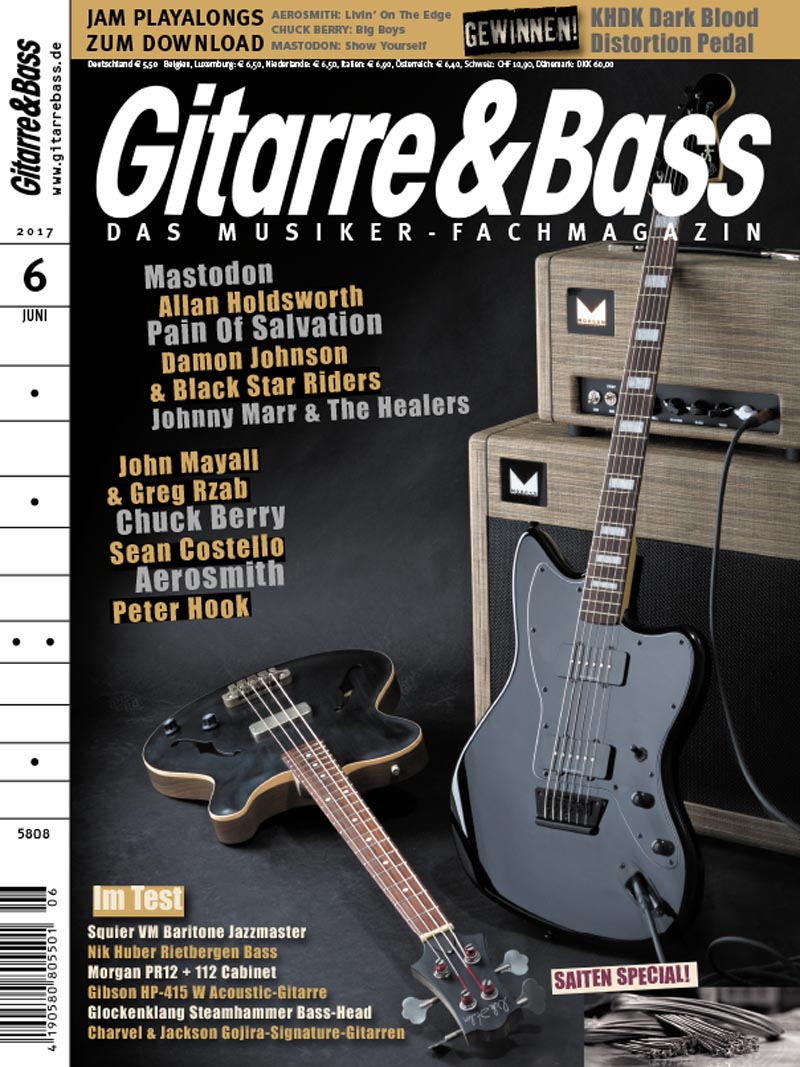 Gitarre & Bass Digital 06/2017
Gitarre & Bass Special Saiten +++ Musikmesse 2017 +++ Im Test: Ibanez, Gibson, Masterpiece, Devils Choice, Glockenklank +++ Workshop +++ Playalongs +++
special
Guitar Summit News!
Musikmesse 2017

Gitarre & Bass Special! Saiten – die Basics

Extended Range Guitars: Auf Draht

Welche Bass-Saite für welchen Job?

Beschichtung 3.0: Elixir Optiweb
story
Pawn Shop: Defil Melodia 2
John Mayall & Greg Rzab: Living Blues
Damon Johnson & Black Star Riders: Thin Lizzy Fans
Meilenstein! Johnny Marr & The Healers: Boomslang
Marcel Neumann & We Butter The Bread With Butter
Mastodon: Neues von der Riff-Fee
Tomate trifft … Guitar-Talk & Video-Tipps!
Pain Of Salvation: In The Passing Light Of Day
Peter Hook: BritBass goes Club
Special: The Blues Of Sean Costello
Mitmachen: Ibanez Jazz Jam!
test
gitarre // bass
Squier Vintage Modified Baritone Jazzmaster, E-Gitarre

Ibanez AFC155-JBB/AFC151-SRR, E-Gitarren
Charvel Joe Duplantier & Jackson Christian Andreu E-Gitarren
Gretsch G5622T Electromatic Center Block Double-Cut, E-Gitarre

MASTERPIECE! Pagelli Gringobeat Purple Deluxe, E-Gitarre

Gibson HP-415 W, A-Gitarre
MASTERPIECE! Nik Huber Rietbergen Bass
Ibanez SR30TH4 & SR30TH5P, E-Bässe
Devils Choice Trapjaw B05 ms, E-Bass
amp // box // fx
König Blue Note, Röhren-Amp
Mr. Black DoubleChorus, FX-Pedal

Morgan PR12 + 112 Cab, Tube-Amp & Cab

Line6 AMPLIFI 30, Modeling-Amp
MXR Phase 95, FX-Pedal
Richter HA-1 Headphone Amplifier
Glockenklang Steamhammer, Bass-Head
Seymour Duncan Forza & Killing Floor, Effekt-Pedale
Mooer Micro Series Envelope, @Wah, Liquid & Micro Drummer, FX-Pedale
EWS/Arion SCH-Z Chorus/Vibe Mod, FX-Pedal
Elixir Optiweb, Gitarren-Saiten
workshop
JAM! Aerosmith: Livin' On The Edge
JAM! Chuck Berry: Big Boys
JAM! Mastodon: Show Yourself
Jil's Jam! Metal Boogie
Let's Play Ukulele! Die Ukulele kennenlernen
In Memoriam Allan Holdsworth
Lick Of The Month: KALEO: Way Down We Go
… and Chords! KALEO: Way Down We Go
Amp Station: FAQs zu Lautsprechern
Effektiv! Lag Spitfire
Das könnte dich auch interessieren