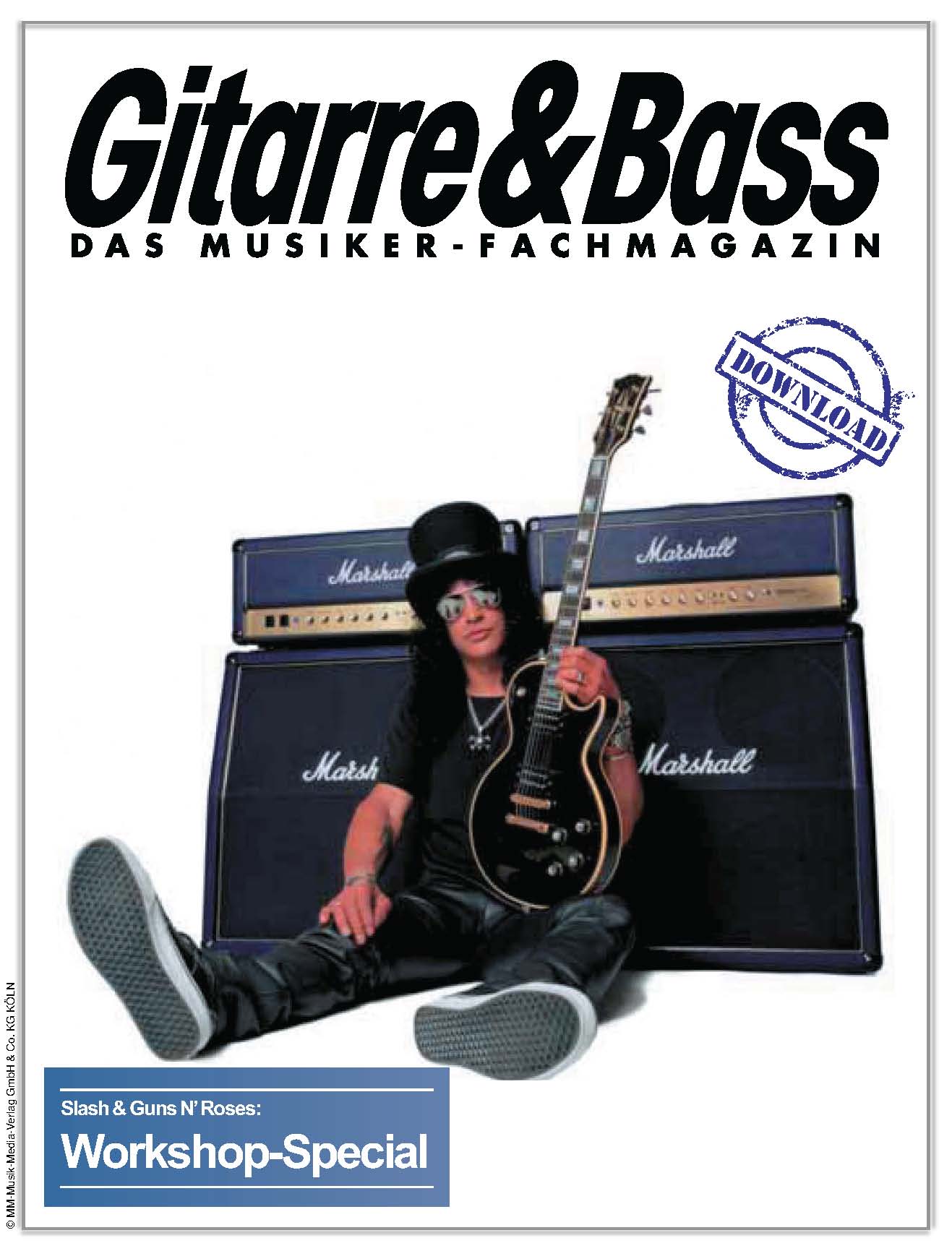 Slash Workshop-Special
Slashs Erfolg beruht darauf, dass sein Ton einen hohen Wiedererkennungswert hat! Hol dir jetzt das Workshop-Special rund um den Kultgitarristen Slash!
Workshops, Interviews, Playalongs und mehr
Großes Themenspecial: Keith Richards & The Rolling Stones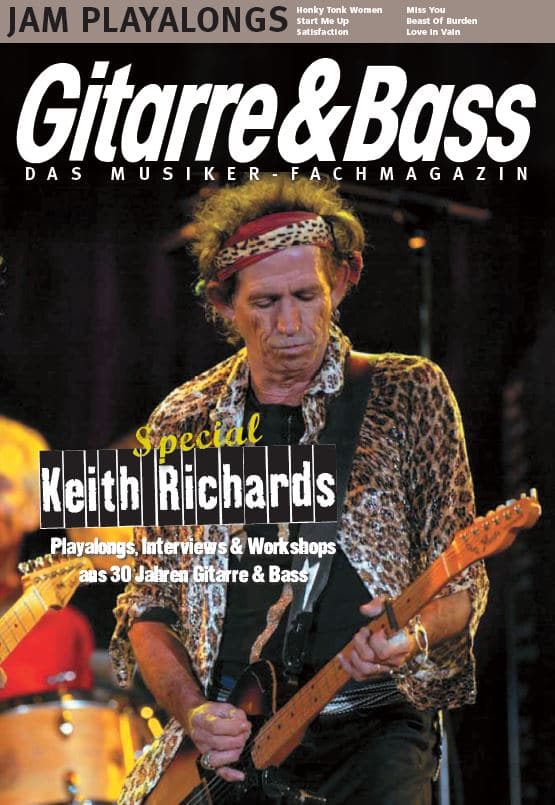 Keith Richards gilt als einer der bekanntesten und einflussreichsten Gitarristen der Rockmusik. Kein Wunder, dass wir uns in über 30 Jahren Gitarre & Bass immer wieder mit der Stones-Ikone auseinandergesetzt haben. 
In diesem Download-Special dreht sich alles um Keith und The Rolling Stones. Egal ob Workshops, Playalongs, Interviews oder Stories, hier findest du alles praktisch und gebündelt auf 45 Seiten!
Wenn du jetzt ein Jahr Gitarre & Bass, STICKS oder Sound & Recording verschenkst, bekommst du bei dem Geschenkabo das Keith Richards Special gratis dazu! Damit du das Geschenk an Weihnachten persönlich überreichen kannst, erhältst du zusätzlich die Ausgabe 12.2017 und eine Geschenkurkunde. Aktionszeitraum: 28.11.17 – 18.12.17.

Das Special enthält im Einzelnen:
Interview:
The Rolling Stones – Captain Keith & der Urknall
Meilensteine:
Meilenstein 1970: The Rolling Stones – Get Yer Ya-Ya's Out!
Meilenstein 1972: The Rolling Stones – Exile On Main St
Meilenstein 1973: The Rolling Stones – Goats Head Soup
Meilenstein 1978: The Rolling Stones – Some Girls
Equipment:
Das Stage-Equipment der Rolling Stones
Workshops:
The Rolling Stones – Miss You
The Rolling Stones – Angie/Love In Vain
The Rolling Stones – Start Me Up
The Rolling Stones – Gimme Shelter
The Rolling Stones – Love In Vain
The Rolling Stones – Beast Of Burden
The Rolling Stones – Honky Tonk Woman
The Rolling Stones – Satisfaction
Workshop: Keith & Ronnie – Stringbound
Playalongs:
The Rolling Stones – Honky Tonk Women
The Rolling Stones – Miss You
The Rolling Stones – Beast of Burden
The Rolling Stones – Start Me Up
The Rolling Stones – Satisfaction
The Rolling Stones – Love in Vain
>> HIER GEHT'S ZUM DOWNLOAD IN UNSEREM SHOP! <<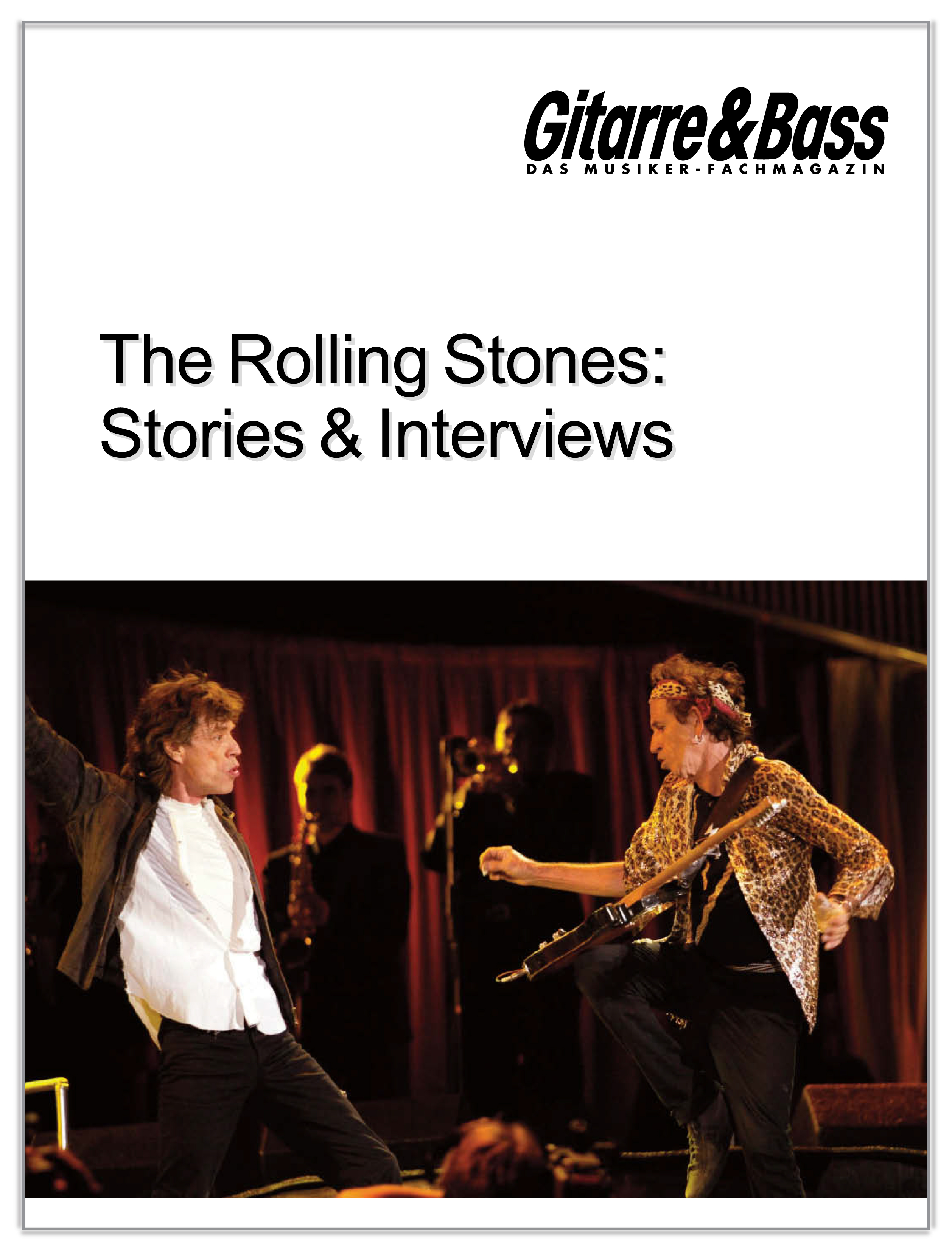 The Rolling Stones: Stories & Interviews
The Rolling Stones im Interview - das große Gitarre & Bass-Special
Das könnte dich auch interessieren