Warwick's headquarter in Markneukirchen will host one of the most unique training camps ever been in Europe in co-operation with "Gitarre & Bass"; the "Warwick Bass Camp 2015".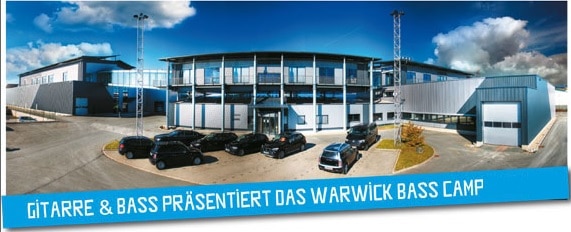 The tradition of manufacturing musical instruments in this eastern area of Germany goes back to 1677, but instead of building violins, the younger success story is being written by german manufacturer "Warwick"; using the slogan "Basses, Amps & Rock 'n' Roll".
About 80 bassists out of Europe are being given the opportunity to learn from the best: some of the best low-key-workers around the world.
The lecturers will be from different musical styles & countries.
Registration
Warwick Bass Camp will take place from August 28th, 2016 until September 4th, 2016, the amount of tuition for early birds (until December 31st, 2015) is € 1.099 (this includes 7 nights at the Hotel IFA Schöneck Ferien Park, equipped with sauna, pool, and dinner).
Date of arrival: 28.08.2016
Date of departure: 04.09.2015
For further information: www.ifa-ferienpark.de
All participants will please supply their own instruments, amps will be taken care of by Warwick.
The tutorial calender will be published on this site soon. Bass Camp's daily language will be English.
Tuition fee 2016:
| | |
| --- | --- |
| Early bird registration until December 31st, 2015 | € 1.099,00 |
| Registration until June 30th, 2016 | € 1.199,00 |
| Registration from July 1st, 2016 | € 1.399.00 |
Register by e-mail to "basscamp@warwick.de"